MARK LEVINSON | LEXUS
A Shared Passion

For Perfection
Mark Levinson was born from the soul of a passionate musician with an uncompromising devotion to audio perfection. Together with Lexus, we bring an exhilarating music experience to every passenger, in every vehicle, during each and every ride. Discover the most subtle notes and the deepest tones of your favorite music. Discover Mark Levinson in Lexus.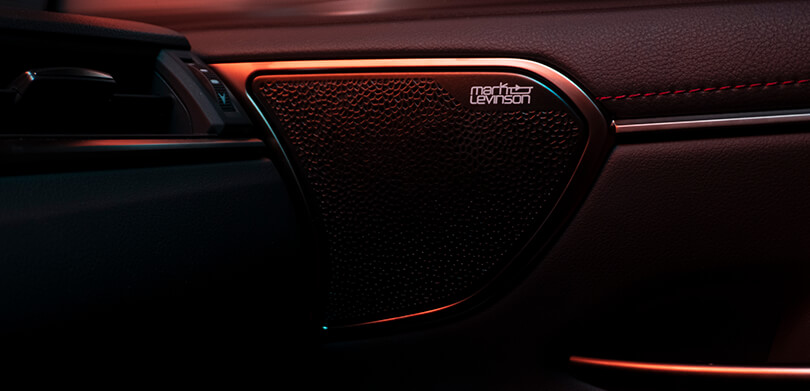 Lexus Models

Racing

Reviews
Lexus ES
Lexus GS
Lexus GX
Lexus IS
Lexus LC
Lexus LS
Lexus LX
Lexus NX
Lexus RX
Lexus RC
Lexus

Racing

Passion and excellence are key to the heritage of both Lexus and Mark Levinson. By competing in the IMSA WeatherTech SportsCar Championship, the Lexus Racing engineering team is able to refine their performance philosophies and build implement new performance standards for production F and F Sport vehicles.

Lexus

Racing

We spend thousands of hours collaborating with Lexus engineers to achieve pure and precise Mark Levinson audio excellence inside each Lexus model. Now, we're extending this partnership to the race track to push the boundaries even further.

Lexus

Racing

Peak performance never happens by accident. It is the result of an uncompromising devotion to engineering, craftsmanship and design. Working with Lexus, this devotion allows us to deliver an exhilarating music experience to every passenger both on and off the track.
Reviews
Automobile

"Included in the Touring package, the 13-speaker Mark Levinson audio system offers a fidelity of sound rare in a car...and its clarity at even high volume will is sure to bring out the best in your favorite music." - On the Lexus LC

Business Insider

"And the RC F's 835-watt, 17- speaker Mark Levinson sound system is fantastic, the best I've ever experienced in a car." - On the Lexus RC

CNET

"On the tech front, the NX Black Line is the first NX to receive Lexus' excellent 14-speaker Mark Levinson sound system, one of Roadshow's perennial favorites." – On the Lexus NX

CNBC

"That volume knob also controls the Mark Levinson premium audio system, which is up there with the best I've heard. Even at full, ear-throbbing volume, the music is crisp and beautiful." – On the Lexus GS

Gear Patrol

"Audiophiles will rejoice in the quality produced by the 17-speaker package, which was carefully arranged throughout 10 different cabin locations so that tunes are optimally delivered...I was able to hear layers of favorite songs that I didn't know existed." – On the Lexus ES

Jalopnik

"…Mark Levinson audio system…one of my favorite things about the LC 500. It's crystal clear even at absurd volumes, with even-toned sound that perfectly compliments the grand-touring mission of the LC 500" – On the Lexus LC

Motor Authority

"Audiophiles will want to opt for the terrific Mark Levinson audio system with 13 speakers, and 915 watts of power…" – On the Lexus LC

MotorTrend

"The Mark Levinson stereo is as velvety on the ears as anything coming out of Germany, and the car's build quality is as impeccable as always." – On the Lexus LS

Torque News

"The only other option which I would recommend to those RX350 buyers – or anyone buying any new Lexus product – is the Mark Levinson audio system. The Levinson systems are, in my opinion, among the best on the market…" - On the Lexus RX

Wired

"Although some of the most-established luxury automotive brands expressed interest, Levinson was reluctant to partner with anyone. No automotive company met Levinson's standards for the ideal environment—a highly refined and exceptionally quiet ride, even at elevated speeds, combined with precise acoustics. Then Mark Levinson met Lexus." – On the Lexus ES